Saxon league presents his new network partner at the fair SIT in Chemnitz
Limbach-Oberfrohna, Gelenau, Hartmannsdorf, Mülsen: "The Production Network" will present his new network partner at this year's Saxon Industry and Technology Fair from 31 May to 02 June 2016: Schwalbe Metallbau GmbH. On the network stand G4, they will present furthermore a basic machine as well as an extravagant stainless steel container as an example of teamwork of the seven network companies from Saxony.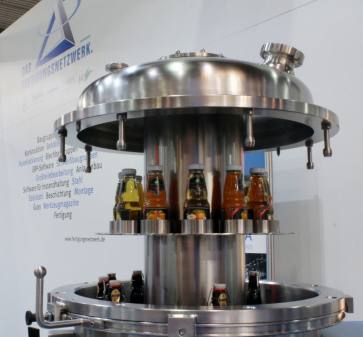 Since September 2015, the company Schwalbe Metallbau GmbH from Mülsen acts as new, powerful partner in the Production Network. With the strength of 80 employees, the company stands for excellence in the field of steel construction and engineering. They cut, bend, weld, paint and mount up to 10 tons workpiece weight in the area of serial production and even more then 10 tons in the area of individual production. "We are able to extend the portfolio of the Production Network in the fields of sheet metal processing and steelwork design and we can develop further the output capacity of the network in the field of engineering and plant construction at the same time", explains Marko Seidler, CEO of Schwalbe Metallbau GmbH.